Since January 2005, he has been the Vice-President of the Singapore Compact for Corporate Social Responsibility (CSR). In June 2009, he was appointed as the Co-Chair of the Social Enterprise Association of Singapore. In Sept 2005, he was elected member of the International Co-operative Alliance (ICA) Board of Directors, making him the first Singaporean to be on this global board in the 112-year history of ICA. He was re-elected in 2009 for another four-year term. A Colombo Plan scholar, Mr. Seah has attended the Advanced Management Programme at Harvard Business School, and was awarded a Fellow of the Chartered Institute of Marketing.
ISO Focus+: NTUC FairPrice has grown to become Singapore's largest retailer, with a network of more than 250 outlets. To what key reasons and events do you attribute your success ?
Seah Kian Peng: At FairPrice, our first priority is our social mission which is to moderate the cost of living in Singapore. This is the driving force for our business decisions, and our customers continue coming back to us because they recognize and appreciate this. We always strive to be the first supermarket retailer to drop prices and the last to raise prices where possible.
For example, we recently launched the "Stretch Your Dollar" programme which will run until end May 2011. This includes a 5 % and 10 % discount on 500 housebrand products until end May. Our FairPrice Housebrand products set benchmark prices and are already at least 10 % lower than comparable national brands. Our House-brands have also won accolades such as the Readers' Digest's Most Trusted Brand.
Over the years, we have continued to build a wide and large footprint of stores all over the island. This is because we want to ensure our stores are easily accessible, making it convenient for our customers as well as helping them to save on transport. We have catered to various customer segments while retaining our social mission to moderate the cost of living in Singapore. We strive to stay relevant to our customers for example, by evolving with our customers' changing lifestyles and offering a wide range of services and shopping formats. Apart from our FairPrice supermarkets, we have FairPrice Xtra, the hypermarket for family shopping fun, FairPrice Xpress, a collaboration with ExxonMobil targeting drivers and riders, and FairPrice Finest, for the mass affluent who want the finer things in life.
We are also known to take the first step in implementing many industry firsts. For example, we were the first in Singapore to launch a pilot eco-friendly supermarket that incorporates the use of recycled and biodegradable materials for store fixtures, energy-saving equipment and lighting, as well as cutting edge " Green Technology " in 2009. This move was recognized by the Singapore Retailers' Association when we were awarded the inaugural " Green Retailer of the Year award " in 2010. We were also the first supermarket to introduce bar-code scanning technology in 1991.
ISO Focus+: How does standardization contribute to the general framework for supporting the whole supply chain, including inventory, package shipping, and tracking to allow NTUC FairPrice seamless integration of your products and services ?
Seah Kian Peng: As a trusted supermarket retailer in Singapore serving our customers for more than 30 years, maintaining high quality standards and adopting best international practices are integral to FairPrice's promise to deliver quality products at best value and service to our customers. From an operational standpoint, standardization translates into higher efficiency, process and product consistency and improved productivity. Our staff is also trained on our operational standards at our dedicated FairPrice Training Institute and this helps them better follow standards and guidelines resulting in enhanced operational efficiency.
FairPrice also has various measures in place to ensure this standardization is followed through. We were the first in Singapore to implement the ISO pallet standard as the only size for a central distribution centre at Grocery Logistics of Singapore (GLS), our central distribution and warehousing facility. FairPrice's Food Safety and Quality Department has put in place a comprehensive auditing programme and an integrated risk management system to ensure the safety and integrity of our food products throughout the entire supply chain.
We were also the first supermarket chain in Singapore to receive Hazard Analysis Critical Control Point (HACCP) certification in 2001. Our cold chain management system ensures fresh produce is maintained at optimal temperature throughout the whole process from farm to shelf. For example, our implementation of the Cold Chain Management of Vegetables enabled FairPrice to directly import leafy vegetables over long distances, requiring extended journey times of up to 24 hours, and maintain the products' freshness while still being able to keep costs down and reduce wastage. This translates to affordably priced vegetables which have been sourced from various countries around the region like Thailand, Malaysia and Indonesia.
Apart from this, we have also assisted in the development of the Cold Chain Management for Milk and Dairy Products standard in 2002 which has been implemented and has extended the shelf life of milk products. In 2005, we implemented the Cold Chain Management of Chilled Pork which enabled us to import chilled pork from distant sources and maintain safety and quality. This new process reduced the time for products to reach our stores.
To customers, this means that FairPrice is able to increase customer satisfaction by offering a greater variety of products that are of high quality and affordably priced. Implementing these standards ensures that customers receive safe, high quality products and services. At the end of the day, it is all about improving customer satisfaction and increasing customer loyalty and confidence in our products and services.
ISO Focus+: NTUC FairPrice makes extensive use of ISO standards, starting with ISO 9001:2000 for quality management. How do you value these management systems standards as components of your corporate management practices worldwide ?
Seah Kian Peng: Customers trust that FairPrice provides safe and quality food. Our brand promise is to deliver quality food at best value and excellent service to our customers. Because of this promise and the large number of customers we serve at our stores every day, we take serious and comprehensive steps to ensure food safety and quality.
Food safety is of paramount importance to FairPrice. As the primary food safety partner with the Agri-Food and Veterinary Authority of Singapore (AVA), we have established guidelines in place to ensure frozen products are stored beneath the specified load lines in the freezers. Regular audits are conducted at every store to ensure this guideline is in place.
Our food safety and quality management system complies with International Standards such as HACCP and ISO 9001 certification. These systems cover our supermarket outlets, central butchery and warehouses.
Being environmentally friendly is also important to us and we launched the first green supermarket at City Square Mall. Our Bring Your Own Bag initiative launched in 2007, has enabled us to save almost 45 million plastic bags. We have also introduced the reverse vending machine to recycle plastic bottles. A Green Committee was also set up in-house to look into how we can improve environmental management as a whole.
ISO Focus+: As NTUC FairPrice works for many different sectors and ISO has many relevant committees and technical activities, how do you view the role of International Standards in promoting the services you provide to various sectors and the customer-supplier relationship ?
Seah Kian Peng: International Standards are very important to us. It gives credit to the great lengths that we have gone through to ensure that the end product delivered to all FairPrice customers is both affordable and of the best quality. It also allows our intermediaries and partners to trust us, and to spur them on to deliver their best.
We recognize that our business partners play an important role in our success. For example, we collaborate with our suppliers and the AVA in ensuring that safety standards are met to ensure that we are able to maintain a high-level of food safety standards throughout the entire supply chain.
As one of the leading supermarket retailers, FairPrice plays a key role in being an early adopter of standards and through this we spur other industry players to do the same. Many of the standards we were initially involved in during the development stages have now become industry standards.
FairPrice is looking to explore opportunities beyond the domestic market. So this helps to give accreditation in FairPrice's overseas footprint, retail innovations and operational excellence.
ISO Focus+: What are your views on the new areas and issues calling for international standardization in relation to social responsibility (ISO 26000), business relations and IT services ?
Seah Kian Peng: As a social enterprise, social responsibility forms the core of what we do. Giving back to the community has always been part of FairPrice's culture. Indeed, you could say it is part of our DNA. In 2008, we set up the NTUC FairPrice Foundation, to help further FairPrice's philanthropic efforts in a more systematic, focused and sustainable manner. To date, we have given out over USD 20 million through the Foundation to help the poor and needy, to improve workers' welfare and to support community bonding initiatives. As our social mission drives many of our business decisions, it is important for our partners and stakeholders to understand this too.
We also recognize the need for excellent business relations. It is important to have positive and like-minded partners with similar values in order to achieve the best out of this partnership. At FairPrice, we realize that we cannot act independently and have to depend on partnerships in order to offer the best products to the customers in our stores. In 2010, we held our first Partners' Convention to better share our service vision and to reinforce a collaborative approach with our partners. As a retailer, we work very closely with partners upstream and downstream, as we believe these business relations can lead to co-creating an extraordinary customer experience.
IT services are imperative to our business. As industry leaders, we must embrace new technology and open our minds to stay ahead. The ability to innovate and seize opportunities in new technology will be key to driving productivity, especially in the retail sector. IT security standards are also a key area we are looking into. All these help in a better management and control of our entire supply chain including easing our delivery processes.
There are definitely economic benefits of standardization. It is a way to help diffuse and propagate innovation through an industry and ensures that other firms do not fall behind early adopters. We are pleased to play our part and be part of initiatives that help support such efforts.
About NTUC FairPrice
NTUC FairPrice Co-operative Ltd was founded by the labour movement in 1973, with a social mission to moderate the cost of living in Singapore. From one supermarket, it has grown to become Singapore's largest retailer, with a network of more than 250 outlets comprising FairPrice supermarkets, FairPrice Finest, FairPrice Xtra, FairPrice Xpress and Cheers convenience stores. NTUC FairPrice also owns a Fresh Food Distribution Centre and a centralized warehousing and distribution company.
Today, with its multiple retail formats serving the varied needs and interests of people from all walks of life, NTUC FairPrice has kept pace with the changing needs of its customers while remaining committed to its social mission and its aspiration to be Singapore's leading world-class retailer with a heart.
For more information on NTUC FairPrice, www.fairprice.com.sg.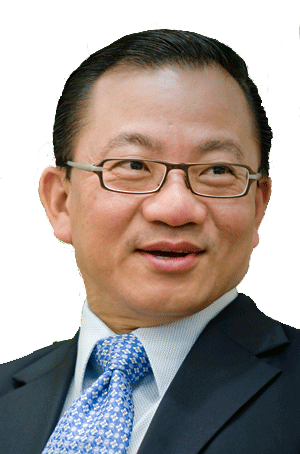 Seah Kian Peng
Chief Executive Officer (Singapore)
NTUC Fairprice Co-operative